Wuppertal offers many sights and activities ranging from arts and culture to nature and experience. In the following list you can find the most beautiful and recommendable leisure activities:
Wuppertaler Suspension Railway

The suspension railway of Wuppertal offers a very special way of travelling. Furthermore, you have the opportunity of booking a trip on board the nostalgic Emperor's Carriage.
To the website
Our hotel offers a special package offer for interested guests including accommodation, a trip with the suspension railway and a visit to the Wuppertal Zoo: 
Offer Suspension Railway and Zoo
Dance Theatre Pina Bausch
Pina Bausch is considered the most important choreographer of modern age. Her dance theatre Wuppertal has revolutionized modern ballet. You can admire her performances at the Opera House Wuppertal.
To the website
We can offer a special package offer for visitors of the Dance Theatre Wuppertal with accommodation in our First Class Superior Hotel: Offer Pina Bausch

Historic Town Hall Wuppertal
The historic town hall offers not only an impressive ambience but also a prestigious programme of concerts, stage performances and shows. It is worth while having a look at the current programme.
Sculpture Park and Villa Waldfrieden
This extraordinary park covers an area of more than 30 acres. Here you can enjoy art and culture surrounded by nature. Not only Tony Cragg's sculptures may find your interest but also the Villa Waldfrieden offers a rich cultural programme with regularly changing exhibitions, films, lectures and musical performances.
To the website
Our hotel presents for those who are interested in the Sculpture Park a special package offer with accommodation and a visit to the park: Offer Sculpture Park
Wuppertal Zoo
A fabulous zoo with a really successfully restored elephants' house and predators' enclosure
To the website

Our hotel is proud to present to our interested guests a special package offer that includes accommodation, a trip with the suspension railway and a visit to the Wuppertal Zoo: Offer Suspension Ralway and Zoo
Von der Heydt-Museum
The Von der Heydt Museum regularly presents world-famous works of art in Wuppertal, as for example Monet or Pissarro. Furthermore, it is renowned for the excellent presentations and useful accompanying docmentations of its exhibitions.
To the website
For museum visitors from far away we can offer an interesting package offer including accommodation and a visit to the Von der Heydt Museum: Offer Von der Heydt
Bergische Museumsbahnen – Vintage Train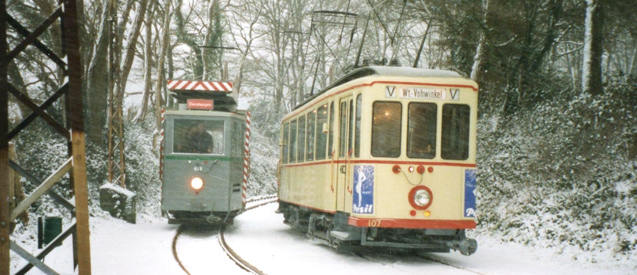 Recommendation for railway fanatics: you can combine a trip with the Wuppertal suspension monorail and a travel across the Bergisches Land by vintage train.
Schloss Lüntenbeck – Lüntenbeck Castle
The Castle of Lüntenbeck offers a fantastic, romantic atmosphere. Here, craft exhibitions, textile and decoration fairs as well as garden markets take place.